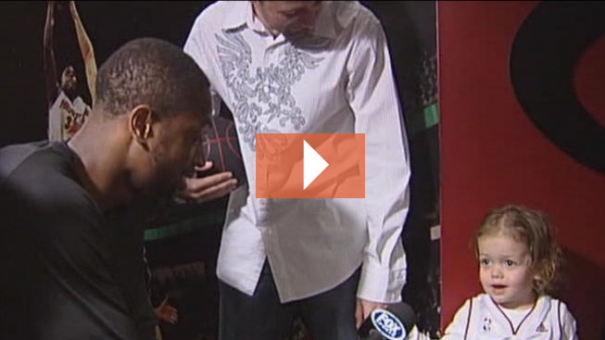 Chad Sher had the time of his 28-month-old life Wednesday night when he went one-on-one with his favorite player in the NBA, Dwyane Wade, before the Heat's season finale at AmericanAirlines Arena.
Sher's imitation of Wade's "This is my house" celebration became a YouTube sensation and the Heat star just had to meet his toddler doppelganger.
Wade, one of NBCMiami's loyal Twitter followers, saw the clip and the story we did and posted it to his Twitter account. The rest is history.
"I got sent the YouTube video and somebody said check this out," Wade said last night. "So I looked at it and I was just dying laughing, I was cracking up, I just thought it was so adorable."
Chad Sher started talking at nine months old, and he never misses a Heat game or a chance to scream his favorite phrase, "this is my house."
He first blurted it out while his father was watching highlights of the Heat-Chicago Bulls game last year that ended with Wade hitting a running three-pointer at the buzzer. The family put it on YouTube and we all know what happens once you put an adorable kid imitating a superstar on YouTube.

"This is my house!"
"He has been telling the whole world, 'Dwyane Wade wants to meet me,'" mom Gabriella Sher said.
Last night, the 3-foot toddler who sports his D-Wade jersey all the time got to meet his 6-foot-4 hero in a surprise meeting arranged by MV3.
"We haven't told him we are going tonight otherwise he wouldn't want to take a nap because he would be too excited," Gabriella Sher said before the meeting.
When Wade walked out of the Heat locker room to greet Chad, the first thing he told the little boy was, "I'm a big fan of yours," and gave him a hug.
Chad was a bit shy and star struck at first, but he eventually became his talkative self.
"Is the stadium Dwyane's house?" he was asked.
"It's my house," Chad replied.
"It's your house, I thought it was my house?" joked Wade.
At the end of their time together, Chad made a request on behalf of all Heat fans.
"You gotta stay in Miami," he said.
Wade made no promises, but said the youngster made a compelling argument.
"According to him, he said I have to sign back," Wade said. "I'm glad I got all the 2-year-olds wanting me, I'm sure he's got a whole 2-year-old clan."