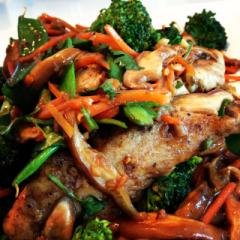 Here's a great low sodium recipe that Dwyane enjoys. It's flavorful, healthy,and best of all only takes 30min or less to prepare. ENJOY!!
Yield: 2 persons
*2 boneless chicken breasts, cut into strips
* 11/2 Tbsp Japanese five spice
*1 shallot finely chopped
* 6 fresh cloves garlic, minced
*1/4c fresh ginger, thinly sliced into matchsticks
* 1/4tsp dried chili (chili flakes)
*6 shiitake mushrooms, sliced
* 2 cups snow peas
*11/2c precut stir fry carrots
* 1/2c broccoli
*handful fresh cilantro
* 3Tbsp. canola oil
* SAUCE:
*2/3c lite coconut milk
* 2 1/2 Tbsp. fish sauce [3]
* 3 1/2 Tbsp. fresh lime juice
*1 1/2 Tbsp. low sodium soy sauce
* 1/3 to 1/2 tsp. dried crushed chili (chili flakes)
*2 1/2 tsp. dark agave nectar
METHOD:
*Combine all 'stir fry sauce' ingredients together in a cup or
bowl, stirring well.Taste-test it,and adjust these flavors to suit
your taste
* Place chicken in a bowl and season with five spice.Toss well and
set aside.
*Warm a wok or large frying pan over medium-high heat. Add 2Tbsp
oil and swirl around, then add the shallot/onion, garlic, ginger, and
chili. Stir-fry until fragrant, 1-2 minutes. Then add chicken together
with the marinade. Stir-fry 5-6 minutes, until the chicken is cooked.
Add more of the stir-fry sauce as you cook, keeping it moist rather
than dry.
*Add the mushrooms, snow peas, carrots, and broccoli. Add enough
stir-fry sauce to just cover ingredients. Simmer 3-5 minutes, or until
the vegetables have turned bright in color but still retain some
crispness.
*Reduce heat to minimum and adjust seasonings.
* Top with a sprinkling of fresh cilantro and serve by itself or
with brown rice.