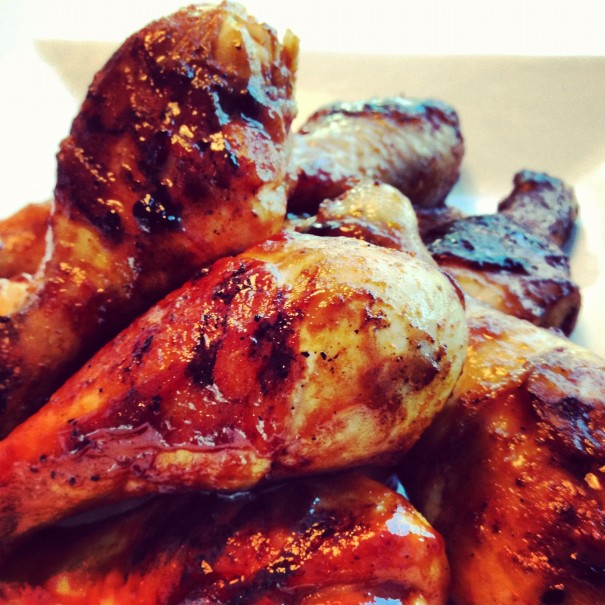 When putting meals together, there are many ways you can go the healthier route by replacing fried techniques for a healthier grilled preparation. This recipe shows you how you can trade the fried for the grilled and top it off with that oh-so-savory BBQ sauce.
Serves 4
2 pounds chicken legs
2 tablespoons canola oil
3 tablespoons sodium free creole seasoning
2 tablespoons smoked paprika
2 tablespoons curry powder
1/4c unsalted butter
1tsp fresh ginger minced
4 garlic cloves minced
1c Champagne Cola (Goya)
1/2c Worcestershire sauce
1 1/2c brown sugar (Goya)
1c Apricot Nectar (Goya)
1/2c cider vinegar ( Goya)
2tsp balsamic vinegar
3Tbs yellow mustard
2tsp nutmeg (Goya)
1tsp onion powder (Goya)
2tsp garlic salt (Goya)
1tsp red pepper flake (Goya)
Chicken Method:
Preheat oven to 400 degrees
In a large bowl combine oil and chicken coating thoroughly. Next season chicken with creole seasoning, curry, and smoked paprika. Place chicken on a stove top grill pan heated to medium high cooking chicken 2 minutes on each side 4-6 minutes total. Baste chicken with BBQ Sauce the last minute before removing the chicken from the grill. Remove chicken and place on a foil lined baking sheet and place in the oven for 15 minutes or until chicken is done. Remove chicken and baste with BBQ Sauce before serving.
Sauce Method:
In a medium sauce pan melt butter and sauté garlic over medium high heat about 30sec
Next add all the remaining ingredients and simmer occasionally until sauce thickens around 30-35 min
Remove sauce pan from the heat and adjust seasonings