From Tom Brady to Dwyane Wade, these sports stars are at the top of the fashion game.
Tom Brady, quarterback of the New England Patriots, shocked sports fans on Nov. 30 with the announcement of his latest endorsement deal: a fashion company. Brady, a three-time Super Bowl champion who is married to Brazilian supermodel Gisele Bündchen, is the new face of UGG Australia, a lifestyle brand best known for its girly sheepskin boots.
Critics whined about the "Giselification" of the quarterback, pointing also to his newly long hair and a recent GQ photo shoot as evidence of some sort of personality change. But Brady's embrace of the fashion world is hardly a result of his marriage: It's all business. From the Miami Heat's Dwyane Wade–who loves Gucci and Louis Vuitton–to British soccer star David Beckham–who is reportedly designing a menswear line–athletes are embracing fashion more enthusiastically than ever.
"[Today], it is less shocking to see a burly jock of a man in a three-piece suit or designer jeans," says Nic Screws, fashion market editor at men's lifestyle magazine Esquire. "Now athletes are trendsetters and icons in their own right–beyond the court or field."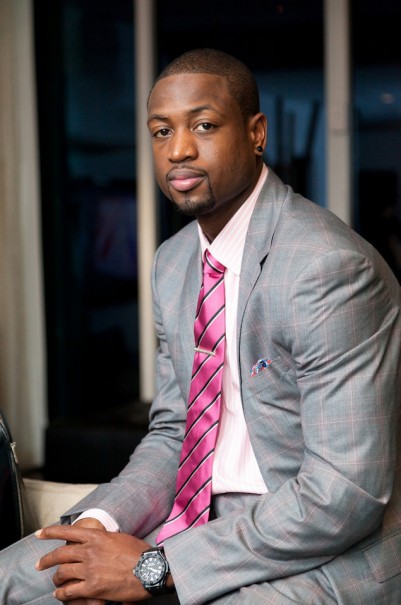 Wade favors classic, well-tailored suits (from Calvin Klein, Ralph Lauren and Gucci, which has his credit card on file) and colorful, bold accessories like ties and pocket squares; he dresses with panache but not flash. He has doled out fashion advice to Men's Fitness readers, and once stopped to fix Philadelphia Coach Eddie Jordan's tie during a game between the Heat and the 76'ers. Does not shy away from lavender, bright yellow, mixing patterns, thick-framed glasses or bow ties.
Forbes' list of the best-dressed athletes includes–in addition to Wade, Brady and Beckham–a linebacker who designs a line of bow ties (Dhani Joanes of the Cincinnati Bengals), an equestrian who happens to be the daughter of Princess Carolina of Monaco and is sponsored by Gucci (Charlotte Casiraghi), and a hockey player who once interned at Vogue (Sean Avery of the New York Rangers). Their styles range from polished and preppy (tennis player Roger Federer) to full-blown eccentric (former boxer Chris Eubanks wears jodhpurs and bowler hats, and used to sport a monocle). Many of them are designers on the side, including Beckham, Eubanks and tennis stars Maria Sharapova and Venus Williams.
Why the sudden surge in stylish athletes? One reason: corporate sponsorships. Sure, fashion and sports have a long history, says Screws. "But [their relationship] has grown over the years with big name brands stepping up and sponsoring or linking with sports stars for marketing purposes." Designers are catching on too, with brands like Joseph Abboud regularly dressing the New York Giants. "We're talking the offensive line," says Screws, "big men–happily dressed and well-fitted men."
Another reason? A return to classic style. "The '80s and '90s were a low point for sports style," says Jon Patrick, who has worked in the menswear industry for 20 years, and edits a style blog called The Selvedge Yard. "Players wore over-the-top six-button suits, big jewelry. It was very gangster, not in good taste. As the economy has changed, people's values have changed, and you see this movement toward preppy, heritage brands and well-tailored classics." NBA players like Wade and his Heat teammate LeBron James love their preppy cardigans, and golfer Luke Donald's Ralph Lauren ( RL – news – people ) plaid pants sure attract a lot of attention on the green.
As for the "Giselification" of Brady, Screws scoffs, "Pre-Gisele Brady was still aware. He still had a relationship with [tailors] Ermenegildo Zegna and Tom Ford. He still let people dress him up and lead him to designer things."
"It comes off as jealousy to me," she adds. "Like he's the visual reminder of someone having it all. Money, talent, hot wife, championships, good hair, nice clothes." Those are all big reasons why sports stars fall into fashion, she notes. "Because they can."