By Nicola Fumo, The Verge
A Dwyane Wade mini-shop signals a shift in Amazon's approach to style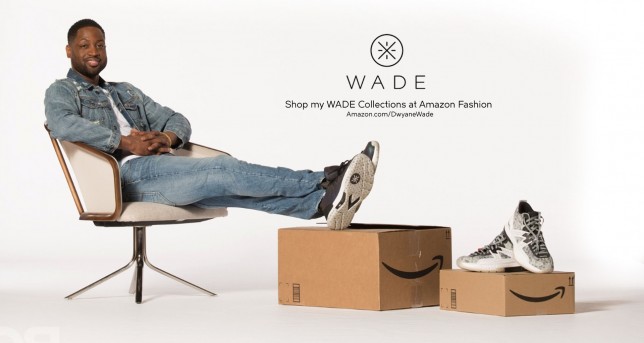 Last week, Amazon gave Chicago Bulls shooting guard Dwyane Wade his own boutique of sorts. "Bringing my style game to @amazonfashion with my own online store," said Wade in an Instagram post blasted to his 9.2M followers. Wade's Amazon hub houses a suite of brands he's collaborated with — Mission activewear, Stance socks, Tie Bar accessories — as well as his own sneaker label, Way of Wade. It doesn't sound revolutionary, but creating a shop strictly made up of one celebrity's brands is pretty unique — and for Amazon Fashion, it's really, really smart.
Fashion is a huge focus for Amazon, as it looks to become, in its own words, "the best place to buy fashion online." Retail analysts and fashion industry veterans have been doubtful of Amazon's ability to seduce the fashion customer, because, well, nothing about Amazon is very fashion. "Its front-end experience is not currently optimised for merchandising emotional products, while its association with discounting turns off luxury brands," wrote Richie Siegel for Business of Fashion. "Although practical items like socks and trainers might be top sellers on Amazon, many still question whether the site will ever be capable of conjuring the dream required to sell thousand dollar dresses and bags."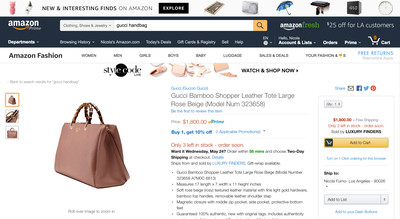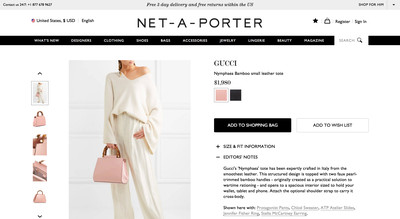 A Gucci bag on Amazon Fashion vs. Net-a-Porter, the leader in luxury fashion e-commerce.
Emotion is the essential differentiator between slinging apparel (which Amazon is pretty good at) and selling fashion (which Amazon is not yet very good at). Think of it like this: apparel is utilitarian problem solving ("I need socks"), while fashion is subjective self-expression ("I need to look good for this job interview"). Wade brings an emotional bond he's developed with his fans over his years-long career, as well as his reputation as a stylish guy. The store's landing page also shows that Amazon is catching on: it's uncluttered, the photography is rich, and the product mix is focused. It's a sign that Amazon might be able to do this fashion thing after all.
Making the leap from apparel to fashion would be a boon to Amazon's bottom line. "Amazon's interest in fashion e-commerce is undoubtedly driven by the nearly $300 billion in US revenue," Ken Cassar, principal analyst at Slice Intelligence, tells The Verge, noting that apparel is one of the biggest US retail categories. "Fashion merchandise typically is a highly profitable category," adds Manik Aryapadi, a principal in the retail division of consulting firm A.T. Kearney. Ed Yruma, an analyst with KeyBanc Capital, estimates the boost in profits from apparel sales could add 25 cents to Amazon's earnings per share in 2017.
Amazon CEO Jeff Bezos isn't afraid to play the long game when conquering a new market. The company has been flirting with fashion since at least 2006, when it acquired multi-brand womenswear e-tailer Shopbop. In subsequent years, it has worked to align itself with highly visible fashion industry events, sponsoring a Costume Institute exhibition in 2012 and the 2015 launch of New York Fashion Week: Men's. It also sponsors two international fashion weeks, which now bear the brand's name in their official titles: Amazon India Fashion Week and Amazon Fashion Week Tokyo.
But 2017 is the year Amazon Fashion is really beginning to strike. At the beginning of the year, Amazon quietly launched seven private label apparel brands, with most SKUs in men's accessories, women's dresses, and handbags. In April, it added its own lingerie line with cut-rate prices. Most recently, it announced an extension of its Alexa-enabled Echo product line specifically designed to take outfit photos and give style feedback. Farther behind the scenes, the company is investing in its own fully automated clothing factory, a shipping company (code name: Dragon Boat), and physical stores.
Customers have certainly shown they're willing to buy clothes from Amazon: in 2016, Amazon registered the most apparel sales of any online retailer in the US for those 18–34, claiming more than double the market share of Nordstrom, which came in second place. Shoppers surveyed in an October 2016 report by Cowen & Co. said Amazon Prime was the main draw to purchasing apparel on the site, followed by high marks for convenience, customer service, and reviews. The Cowen study reported Amazon held 6.6 percent of the apparel market when it was published, projecting 8.2 percent in 2017, and 16.2 percent by 2021, with an estimated $62 billion in annual apparel sales, followed by TJ Maxx and Macy's. "Amazon is more than capable of becoming the biggest retailer of apparel made by other brands," Cassar says. "In fact it will probably accomplish that in 2017." Still, he is doubtful about Amazon's ability to bring the success it's seen with apparel into fashion. "I do not believe that Amazon is capable of establishing a strong enough emotional connection with consumers to be a leading fashion brand itself."
Aryapadi has identified three major points Amazon needs to hit in order to become a true fashion powerhouse. "First, Amazon will need to hire top design/creative talent, and give them artistic freedom to experiment and bring uniqueness to the assortment, not 'more of the same,'" he says, adding that consumers (especially millennials) want distinct and unique merchandise. Second, he stressed that Amazon needs to offer merchandise at different price points. "Amazon's cachet has always been value-driven price points," he notes, but "having a luxury/premium label creates a halo and an aspirational effect." Lastly, Aryapadi argues that the online retailer needs to go deeper with offline engagement. Yep: real stores. "As retail brick and mortar evolves, physical stores will serve as playgrounds for the brand," he explains, "where consumers experience the brand and develop an emotional connection." Opening stores in fashion-forward cities like New York City or Paris, he suggests, "can help Amazon build credibility in the fashion space."
Josh Shaw, founder and CEO of Mission, one of the brands involved in the Dwyane Wade shop, is aware that the project signals a necessary shift in Amazon's approach to fashion, and is enthusiastic about it. "People's impressions of Amazon are going to change," he says. "Amazon Fashion, a year ago people looked at it and said, 'Yeah, good luck,'" Shaw says. "They should not have second-guessed them, because anything Amazon puts their mind to, they're very successful."