Zaire Wade, 9, and Zion Wade, 4, were among several thousand children who enjoyed all-day fitness activities held on the Ellipse near the White House on Saturday.
"They are tearing the park down," said Zaire and Zion's father, Miami Heat guard Dwyane Wade. "I wanted to surprise them. We came up early this morning. They didn't know we were coming, and they're very excited to be here."
The event was the Nickelodeon Worldwide Day of Play, part of the Let's Move initiative, sponsored by the President's Council on Fitness Sports and Nutrition.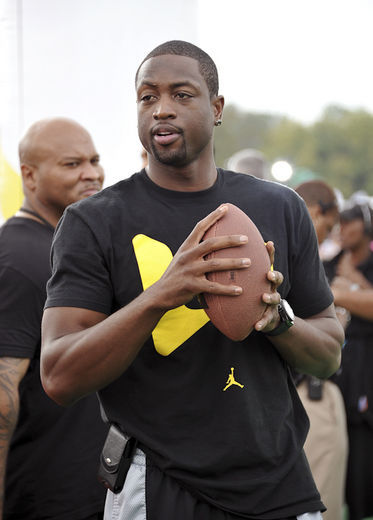 Wade joined fellow NBA stars Carmelo Anthony, LeBron James and Chris Paul at the event, and James, along with first lady Michelle Obama, provided instruction and inspiration while a group of kids navigated an obstacle course.
"The President and Michelle Obama have this great cause, and they wanted everybody to get out and support it," Wade said. "It's not about me being here, or LeBron or Carmelo, its about the kids being here," Wade said.
But Wade did talk NBA business long enough to concede that he and his fellow players should be getting ready for training camp right now.
"At this time of the year, that's what our bodies are used to," Wade said. "It's unfortunate that the business side of sports has to come into play, but right now, we still have hopes of getting a deal done."
Anthony also expressed optimism, but said that for now, it's important for the players to remain unified.
"It's good for us to be together, whether it's something like this or playing basketball," Anthony said. "It gives the fans something to keep the excitement going despite the lockout. They shut the preseason down, they shut training camp down, so we'll see what happens.
"I keep telling myself to be optimistic about the whole situation, but right now, we have to stand still. We want to play, we just want a fair deal."
Players such as Anthony, Wade, James, and other NBA stars are making headlines in charity events and summer league games, but they are somewhat less visible than the players in the same position during the 1998-99 lockout.
During that lockout, New York Knicks All-Star center Patrick Ewing was the head of the players' union, and stars such as Michael Jordan were a vocal presence during the negotiations.
The current NBA executive committee has only one member, Paul, who fits into the superstar category. The NBAPA president is Los Angeles Lakers guard Derek Fisher, and the rest of the committee consists of players considered, "rank and file guys," including Washington Wizards swingman Maurice Evans, the players' union vice president.
The importance of that difference is up for debate among those hoping to see the lockout settled as soon as possible.
"It's not like the presence of superstars means the owners won't lock you out," said ESPN NBA analyst Chris Broussard. "In 1998, the executive committee was full of stars and we saw what happened. We had a 50-game season. I think that as time goes on, we may see the stars become a little bit more visible because of the heightened sense of urgency, but it's not like the stars aren't involved.
"LeBron James and Carmelo Anthony have both met privately with Billy Hunter, so they are abreast of the situation. But since they're not on the executive committee, they're not in all the meetings, and aren't going to talk about the details publicly."
On Friday, the league canceled 43 preseason games and postponed the start of training camp, which was due to begin the first week of October.