By Alessandra Turra
The nine-piece collection will be sold exclusively at select Saks Fifth Avenue locations and online next spring.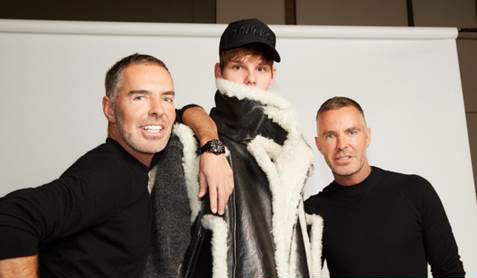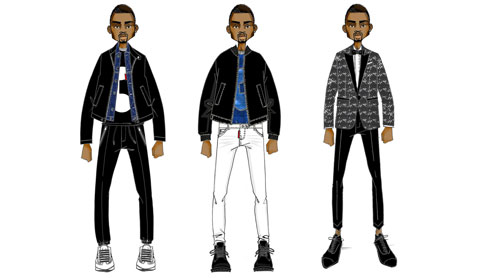 MILAN — Dean and Dan Caten are training for an alley-oop.
The founders and creative directors of Dsquared2 have teamed with Chicago Bulls shooting guard Dwyane Wade on a capsule collection that will launch exclusively at select Saks Fifth Avenue locations and at saks.com next spring.
The Dsquared2 for Dwyane Wade collection celebrates the relaxed elegance of the basketball player — who wore a custom-designed Dsquared2 tuxedo for his wedding in Miami in 2014 — combined with the brand's signature aesthetic and fit.
The collection will include nine pieces for both daytime and nightlife occasions.
"After having known Dean and Dan for many years, with their innovative designs influencing my style choices, I am thrilled to partner with Dsquared2 on a collection for Saks Fifth Avenue that expresses our shared vision of fashion as a means of creative expression," said Wade, who will collaborate with the brand on a second capsule debuting later this year.
"Dean and Dan push boundaries and redefine fashion. I have incredible respect for what they do," he continued. "Collaborating with two of the world's most creative visionaries is a dream come true and we are creating a high-fashion collection that embodies fit, style and bold elegance. Each design reflects my personal taste and lifestyle, but is also geared toward the everyday man with an elevated fashion sense."
Among the key pieces included in the capsule are wool jogging pants matched with a poplin T-shirt decorated with a maxi "3," Wade's jersey number, which also appears as a washed patch on a denim shirt in which the back is printed with the name "Wade" in black. Outerwear options include a biker jacket combining leather with denim reflecting Dsquared2's signature patchwork, as well as a sporty nylon bomber with an athletic appeal. A geometric symbol designed by Wade is printed on the back pocket of a pair of white narrow fitted jeans washed to obtain a 3-D effect.
The Dsquared2 for Dwyane Wade collection also offers a quite eccentric, creative take on tailoring with a tuxedo showing a camouflage Lurex jacquard jacket featuring black satin lapels matched with stretch wool slim pants and a poplin shirt embellished with crystal touches.
"The collection is the perfect union of Dwyane's instinct for fashion and Dsquared2 signatures. Working together with him on this capsule for Saks is the essence of our friendship and creative coming together," said Dean Caten. "Dwyane is known for the way he puts together a casual look and with tailored pieces, and the collection we have created together reflects that modern style and spirit."
Eric Jennings, vice president and fashion director at Saks Fifth Avenue, added: "We love Dean and Dan's signature bold style infused with Dwyane's creative vision."
In the meantime, the Caten brothers are gearing up to unveil their fall men's and women's Dsquared2 collections, which will be presented with a single show to be held in Milan on Sunday.
"The fashion system itself needs to be as fluid and modern as the changes that it perpetrates on the runway and we're ready for a new approach — and it's one that comes naturally to us, because we always design the Dsquared2 man with the Dsquared2 woman in mind and vice versa," said Dan Caten, explaining the company's decision to unify its men's and women's runway shows. "This helps in the wholesale run of the business where we now have the advantage of being able to deliver product on time."
Asked about the main inspiration of the two collections, it's "Canada, home sweet home," exclaimed Dean Caten, noting that both the men's and women's fall lineups incorporate strong outdoor elements.
Oversize silhouettes and buffalo plaid fabrics will also define the show, which will be enlightened by pops of color. 
Dsquared2, which kicked off an aggressive retail expansion strategy in 2015 leading to the openings of flagships in key locations such as New York, Miami and Los Angeles, as well as a second store in Paris, recently inaugurated a boutique in Amsterdam and is about to hit Las Vegas.
"We're really excited about it.  The same way we have matured and learned is reflected in the brand," said Dan Caten. "There is more activity happening and the business is growing."
-->
The NBA star and NYFW ambassador on menswear, memes, and needing a good coat for Chicago.
When 6'4" NBA player Dwyane Wade isn't on the court or at the gym, he can often be found scrunching his legs in front row at Fashion Week alongside his wife, Gabrielle Union and other fashion loving athletes like Victor Cruz. And not just in New York — Wade recently returned from Paris where he rubbed shoulders with his style idols David Beckham at Louis Vuitton and Olivier Rousteing at Balmain. He also attended spring 2017 shows for Dior Homme, Lanvin, and Givenchy. This season during New York Men's week, he can officially call himself an "ambassador," with the help of the CFDA, although he's been attending shows here since the very beginning. Wade made headlines last week for his move from the Miami Heat to the Chicago Bulls, but he's still got Balmain on the brain. Plus, he's got to start thinking about where to get a warm winter coat…How would you describe your style? How has it evolved over the years?
I would describe it as unpredictable. I use my style as a way to express my mood and what I am doing for the day. My outfit reflects the hat I am wearing that day, whether it is a businessman, father, athlete, etc. My style has evolved a lot over the years. I wear clothes that fit and are well tailored. Also, I have expanded the different silhouettes in my closet and I do not feel the need to follow any fashion rules or trends.

Personal style icons:
James Bond, André Leon Talley, Michael Jackson,Olivier Rousteing, and David Beckham.

Most recent purchase:
Givenchy lace sweatshirt.

Something you're lusting after:
I am looking forward to the whole Spring 2017Balmain collection.

Most prized possession in your closet:
My sneakers.

Something you would never wear:
I never say never anymore. There have been so many things I thought I would never wear and they have now become defining moments in my fashion story.

What does it mean for a man to "do both?" Who is an example in your mind?
Myself. I think I wear all suits — whether they're sweats or tailored — extremely well.

Style pet peeve:
Ill-fitting clothes.

Chicago weather is very different from Miami. Of course, you travel a lot, but are you adding any cold weather pieces to your wardrobe?
I have a large selection of jackets and sweaters, but I am definitely planning on adding some down and fur jackets.

What do you think about the Internet going nuts over Steph Curry's Under Armor sneakers? Does it make you more cautious about your own style choices? And did you have a strong reaction to them as well?
That's the Internet. Not at all, I do not let anyone besides my stylist Calyann Barnett effect my style choices. No, I did not.

Shows your looking forward to at men's week?
Ovadia & Sons, Rochambeau, John Varvatos, EFM, and Tim Coppens.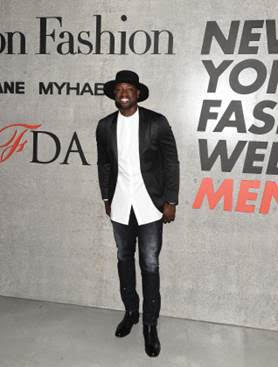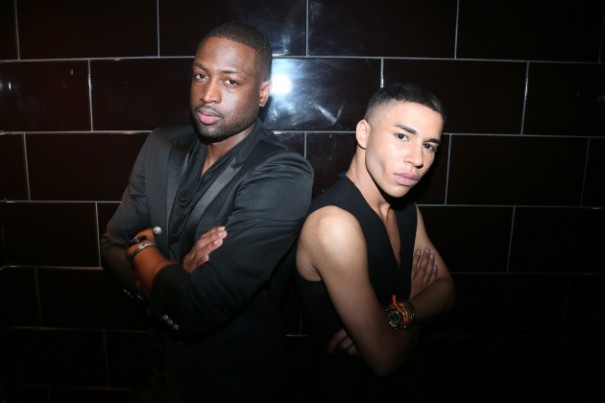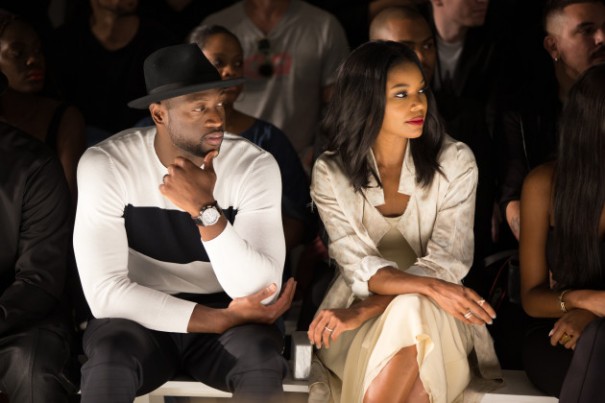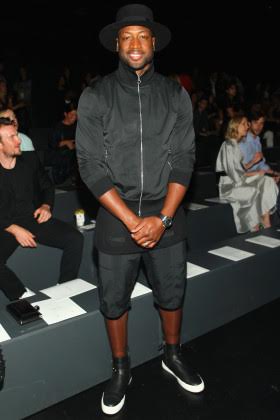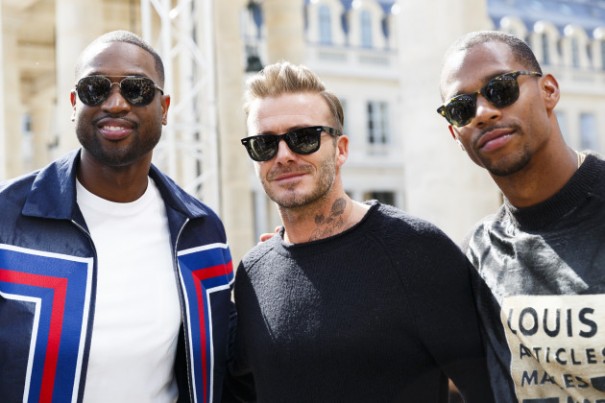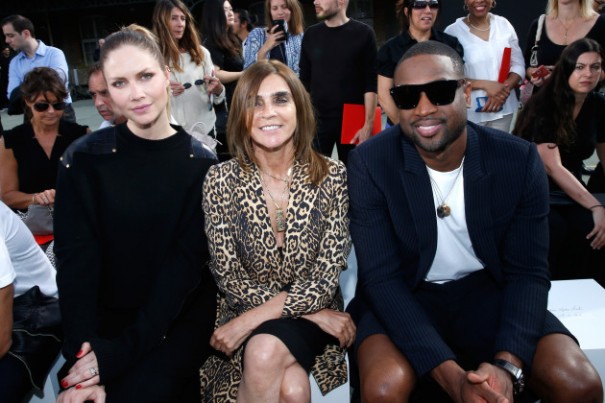 -->
The editors of Sports Illustrated teamed up with sports and fashion experts to select the world's 50 most stylish athletes, including the most fashionable athlete in sports.
Athletes were evaluated for more than what they wear, but how they wear it, where they wear it, why they wear it; designer collaborations, attendance at fashion shows, social media presence, investment in fashion, endorsements and other partnerships were all considered and a panel of stylists, executives, models, journalists and other influencers in the fashion industry worked with SI's Jamie Lisanti to help shape the list.
Style MVPS: The Top 10
7. Dwyane Wade
Everyone knows D-Wade the basketball player, but I am also a father, husband, businessman and friend—and my style reflects that mix. It's unpredictable. Some days I am suited and booted while other days I'm wearing casual sweats, but everything is always well tailored and worn with my own flare. Because I travel often I get to see how different countries and cultures interpret clothing and my wardrobe is inspired by those places. Fashion has allowed me to expand my brand beyond basketball. I currently have a line with The Tie Bar, a collaboration with socks brand Stance, a watch with Hublot and a range with underwear brand Naked—and I am not stopping there. Stay tuned.
— Dwyane Wade
-->
By: HADLEY HENRIETTE  for HAUTE LIVING
Dwyane Wade's annual fashionable night out, otherwise known as Night on the RunWade, enjoyed it's biggest year ever on Saturday, November 14th 2015.
It also had the full support of wife and co-host Gabrielle Union, as well as his Miami Heat crew Chris Andersen, Chris Bosh, Amar'e Stoudemire, Hassan Whiteside, Justise Winslow, Luol Deng, Goran Dragic, Udonis Haslem, Tyler Johnson, Josh McRoberts, Josh Richardson and Beno Udrih.
Other notables including Ace Hood, DJ Khaled and Timbaland came out to enjoy the event as well.
The event was presented by Carnival Foundation and Carnival Corporation at Miami's Ice Palace Studios and was emceed by E! TV's Terrence J. Additional sponsors included Hublot, DSQUARED2, Giuseppe Zanotti, The Collection, Goldman Sachs, Gatorade, Gentleman Jack, Korbel, American Airlines, Miami Heat Charitable Fund, Naked, Stance, The Tie Bar, Li-Ning, Beauty for Real, and Maria Verdeja School of the Arts.
In addition to a feast for the eyes, there was a real feast for guests, featuring food stations from popular area restaurants including Shake Shack, Prime One Twelve, Yardbird, ChefRLI, MC Kitchen, Lure Fishbar, SUSHISAMBA, Coyo Taco, Sugercane Raw Bar Grill, Novecento, and Divine Delicacies Cake.
The fashion game was strong too, boasting a presentation by Giuseppe Zanotti presented their fall, spring and summer line of men's and women's shoes and a fashion show presented by Hublot with looks by DSQUARED2.
To further realize the fashion, for the first time, A Night on the RunWade featured a pop-up store with products from Wade's partnerships with Stance, The Tie Bar, Naked, and Li-Ning. Wade had been planning this event for a long time and Haute Living sat down with the basketball-turned-fashion star to get his insight. Read all about it here.
If that wasn't enough, the evening also included a performance by professional ballerina Maria Verdeja and her company of dancers from the Maria Verdeja School of the Arts. A portion of the proceeds benefits the Wade's World Foundation.
-->
With the NBA season freshly underway, we spent a day with Dwyane Wade in Miami. First, he met with shot impersonator Brandon Armstrong who unveiled his newest impersonation of the All-Star shooting guard. After that we traveled to D Wade's office to talk the evolution of NBA fashion from rocking tall t's to treating press conferences like runway shows. We also talk with his stylist, Calyann Barnett. Presented by Stance.
-->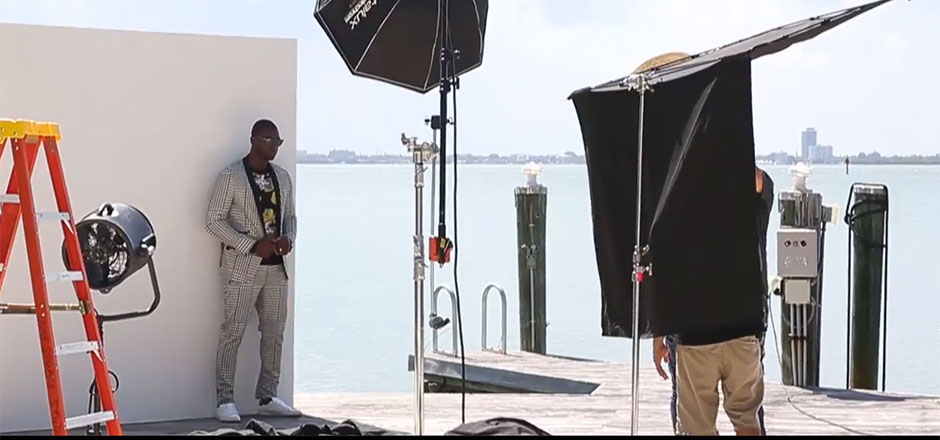 By Jon Warech | September 29, 2015 | OCEAN DRIVE
Dwyane Wade returns for his 13th season with the Miami Heat after a much publicized off-season. But he's already working on tomorrow's storyline.
It's a hot summer day and Miami Heat shooting guard Dwyane Wade has once again woken up to a social media frenzy. This time the public outrage du jour surrounds his choice of outfits for a fashion spread in Esquire magazine. It's a Versace jumpsuit and jacket that's sort of an MC Hammer-meets-Darkwing Duck ensemble—one that only Wade could pull off, but on this day the Internet has lost its collective mind over his fashion choice.
"I'm glad I'm not that guy who cares about people's reactions," Wade tells Ocean Drive. "I'm always in some moment in fashion that's controversial because I push the boundaries or I'm comfortable doing things that people might not understand. I get a kick out of people's reactions. I go on Instagram. I like photos that I think are funny, because I'm in on the joke."
A couple hours later Wade did just that, posting three of his favorite memes of his outfit in a collage on Instagram. It's him making light of the criticism, but when you hear the real reason Wade chooses to take fashion risks, you might not laugh. "We are in a world today where freedom of expression is okay," says Wade, who this summer was also an ambassador at CFDA's New York Fashion Week: Men's. "It's okay to be who you are in today's society. I tell my kids that we are in a different time, so anyone who is still back in the early 2000s, y'all need to catch up. I'm all about freedom of expression and doing what you are comfortable with. I just try to do what I'm comfortable with and if it's pushing boundaries, if it's pushing through a door, then I'm all for it."
Wade is constantly asked to defend his boundaries and his choices. When he decided to become a free agent instead of picking up his $16.1 million option with the Miami Heat this summer, many Miamians looked at a man who has been the heart and soul of the team for 12 straight years and asked 'What gives?' We heard him refer to the Miami Heat in the past tense on ESPN during the NBA Finals and we saw photos of his dad on the Internet wearing a Cleveland Cavaliers t-shirt and we begged him for an explanation. "Everything is overhyped—that's part of social media as well," he says. "There are a lot of things that people come out and say, and there's only so many truths out there. When there's 9, 12 different stories, you can't believe them all."
"I'm glad I'm not that guy that cares about people's reactions."
But facts are facts, and the truth is Wade is a 33-year-old future first ballot Hall of Famer who led the Miami Heat to three championships without once being the highest paid player on the team. We, as fans, sometimes think he should continue to sacrifice, but maybe we are the greedy ones, not him. Fans want Wade and Chris Bosh and Goran Dragic and Hassan Whiteside and we also want Luol Deng, Josh McRoberts, Gerald Green, and Amar'e Stoudemire—and, of course, we want to save money for Kevin Durant next year or Blake Griffin the following year. We are the ones who want it all, not Wade.
But if we consider Wade family here in Miami—and we do—then maybe it's time we start trusting him the way his family does. "My wife supports me in any decision I make when it comes to my career, just like I do with her career," he says of Gabrielle Union, whom he married in August 2014. "I think I make pretty good decisions when it comes to certain things. I've been able to be here 13 years, get to the finals five times with multiple teams and multiple roles, so I've made the tough decisions and I've made the easy decisions and they trust me to make them."
It's been a rollercoaster of a summer for Wade, who after agreeing to a one-year, $20 million deal with the Miami Heat, was in China promoting his Li-Ning shoe brand, Los Angeles walking red carpets at movie premieres, and the Bahamas riding a banana boat with his buddies, LeBron James and Chris Paul (Google it). "It's a typical summer for me," he says with a laugh. "Obviously during the season you try to focus as much as you can just on basketball itself, but I have to be dad, I have to be husband, I have to be businessman as well. Then I have to have a little time to vacation with the friends every now and again, too."
Wade finds a way to do it all, which is why as soon as you ask about his post-basketball life he responds with: "I'm the kind of guy that doesn't want to be tied down to one thing."
That's already the case in partnerships across the board with Li-Ning, Gatorade, Pepperidge Farm, Hublot, Mission Athletecare, Stance, The Tie Bar, Pahlmeyer Wine, and Get It Hoops. Plus his stint on ESPN had people wondering if more television work was in his future. "I do it because it's something that I wanted to try and I had fun with it," he says of his brief stint in broadcasting. "I'm a pro at my experience. I know how to talk about basketball in the way that I see it and I do it. If that's something that someone likes and wants, then that's a different conversation."
Above all, Wade is a father first. Family time is key in the off-season, especially as his sons, Zaire and Zion, and his nephew, Dahveon, get older and need to be sat down for those important father-son talks. "My son and my nephew who I have custody of as well, are both 13 years old. They're teenagers now, so they're reaching a whole new venture in life," says Wade, who is the New York Times bestselling author of A Father First: How My Life Became Bigger than Basketball. "I've been 13. I get it. When you get to a certain age, girls become the thing and that's all you care about—girls and sports. I want them to be comfortable having those conversations with us. That's not the easiest thing, but I think we've done a pretty good job so far."
Sweater, Salvatore Ferragamo (price on request). Bal Harbour Shops, 9700 Collins Ave., 305-866-8166. Shirt, Gucci ($360). Neiman Marcus, Village of Merrick Park, 358 San Lorenzo Ave., Coral Gables, 786-999-1000. Jeans, Dsquared2 ($425). Bal Harbour Shops, 305-866-7880. Tie, The Tie Bar ($19). Stone and palladium necklace, Dior Homme ($1,000). Miami Design District, 161 NE 40th St., 305-571- 3576. Turquoise bracelet ($325), wraparound bracelet ($350), and leather bracelet ($1,295), John Hardy. Neiman Marcus, see above. UNICO King Gold watch, Hublot (price on request). Bal Harbour Shops, 305-865-1855. Belt, Wade's own
It helps having Gabrielle Union in their lives. "She can give me a different perspective sometimes; support, other times," he says. "My wife is very, very, very smart when it comes to everything in life. She's been through a lot. She's seen a lot. Her voice is wanted not only from me, but the kids as well. They have a mother and she's not trying to replace their mother, but in our household, she's the lady in charge and they respect her for it."
"I'm the kind of guy that doesn't want to be tied down to one thing."
That's especially true as the season starts and Wade finds his schedule more focused on basketball. "I always give credit to my family because they're phenomenal," he says. "They understand the sacrifice that is needed so I give them a lot of credit for that. We're going to do our best. We've got Skype; we've got FaceTime. We've got planes. It can all work."
As Wade enters his 13th season with the Miami Heat, it feels like it's time for the rest of the world to understand that sacrifice as well. Each of those seasons, Wade didn't just sacrifice his paycheck; he also put his body on the line for the team to win. "They told me when I was young, 'listen, you only got so many falls in you, kid,' and I knew that," says Wade, who can be seen on Instagram trying all sorts of modern medicine from extreme cold therapy cryogenics to masks that mimic high altitudes to keep his body healthy. "My thing is you only got so much opportunity to play this game. While I had this thoroughbred body when I was young I was going to use it and play the way I wanted to play. Now, when your body is different, and you're on the other side of 30, you have to be a little smarter with the way you play. I still attack the basket as much as anyone in the league but I do it a little smarter now. If you don't adjust, you'll be left behind."
Velvet jacket, Balmain ($4,645). The Webster, 1220 Collins Ave., Miami Beach, 305-674-7899. Shirt ($880) and charm necklace ($630), Dior Homme. Miami Design District, 4040 NE Second Ave., 305-571-3576. Pants, Dsquared2 ($675). Bal Harbour Shops, 9700 Collins Ave., 305-866-7880
With that in mind, this season is about moving forward personally and as a team. "Last summer when we lost Lebron to his hometown, everything happened so fast we weren't able to put the team together like we wanted," he says. "Then last season we had every injury possible to every main player on our team, so we just had a tough year. But I thought our team did a great job this summer moving the pieces around. From the Miami Heat perspective inside, we always have expectations to be a great team. That doesn't change. Once you build a winning culture you don't just go back."
Since he only signed a one-year deal, next summer we'll be watching, waiting, and commenting on social media about his choices once again. "Hopefully I can sign a deal that I'm looking to sign and we can move on pretty fast," he says. "It's the part of it that fans and nobody really likes. Not everybody understands either. The business side of the sport comes into play every now and again for an athlete, so that's just where I was at this summer and I'm glad everything worked itself out with the organization."
Wade might leave. It happens. It will be Wade's choice and he will move forward with that decision no matter what it is, because that's what he does. He picks himself up, laughs at our silly comments, and comes back even stronger the next day. That's why we love him in the first place, right? That's why we hope he stays. That's why we cross our fingers and look for him to sacrifice for us just one more time. But at the end of the day, whether he stays or goes, Miami will always be Wade County. That's our choice.
Tags: COVERS MIAMI HEAT BASKETBALL DWAYNE WADE _FEATURE OCTOBER 2015
Categories: PEOPLE
PHOTOGRAPHY BY JIM WRIGHT. STYLING BY CALYANN BARNETT.
PHOTO ASSISTANTS: HECTOR REBELLION,
MIGUEL MORI.
TAILORING BY OLGA MEVERDEN.
GROOMING BY JASON AMADO.
MAKEUP BY LESLIE MUNSELL FOR BELLE &
COMPANY.
VIDEO BY BOB METELUS.
SHOT ON LOCATION AT 5310 NORTH BAY
ROAD, OFFERED AT $17.5 MILLION FULLY
FURNISHED. A GATED, SIX BEDROOM
WATERFRONT OASIS SITUATED ON BISCAYNE
BAY FEATURING A HOME THEATER AND 5,000
BOTTLE WINE ROOM. DARIN TANSEY, DOUGLAS
ELLIMAN, 1111 LINCOLN ROAD, MIAMI
BEACH, 305-924-4100
-->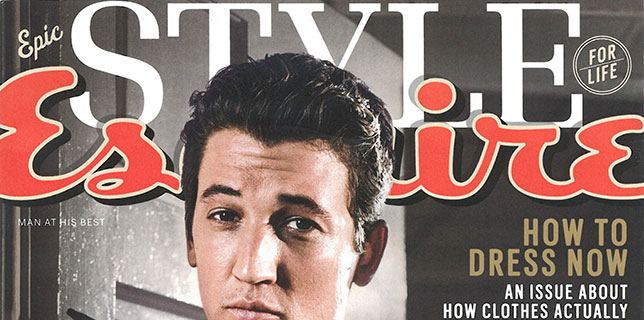 We've all heard that fashion and style are two different things, that fashion comes and goes and style is timeless. Maybe. But at Esquire we weren't satisfied with such a simple answer. So, in our September issue we set out to examine the differences—and similarities—between the two, photographing ten singular men who know something about both. That editorial (which we'll publish online shortly) includes Dwyane Wade, who stepped up and nailed the big shot (just like he always does), wearing a Versace jumpsuit and gold medallion for fashion's sake. In the past day, he's been getting quite a bit of attention for Instagraming that portrait. To be fair, we've also included his "style" portrait for your consideration below. Whichever you prefer—fashion or style—it's probably best to keep in mind that, as Mr. Wade said on his Instagram, at Esquire we've "been doing this" a long, long time.​​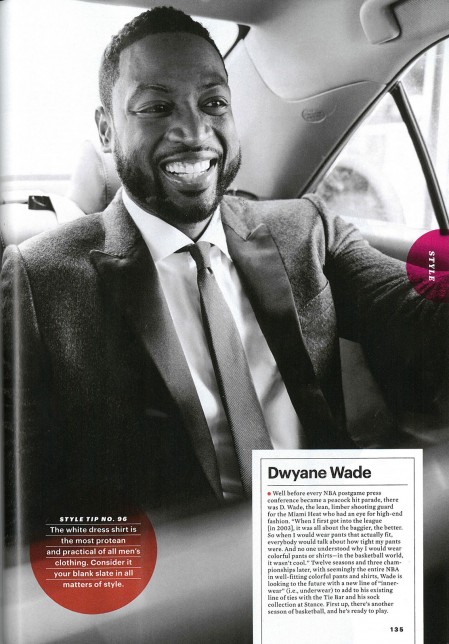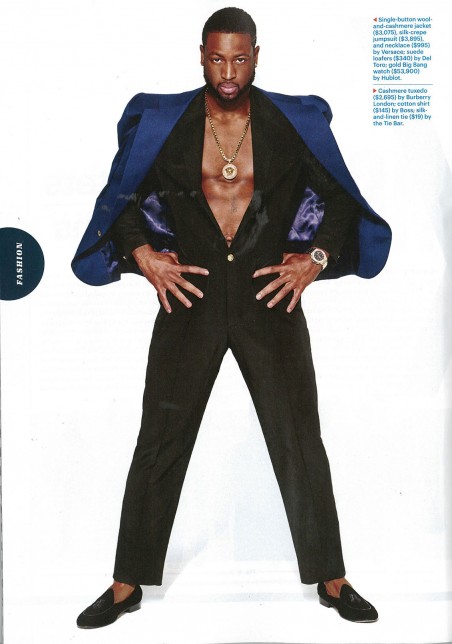 -->
Dwyane Wade, famed shooting guard of the Miami Heat and lover of holiday adventures is no stranger to the front row, whether he's taking in Versace's latest or doing the rounds at New York's inaugural Men's Fashion Week, as he did yesterday, putting in appearances at Thom Browne, Public School, Rag & Bone, and Ovadia & Sons, among others. And you know what, having a wide spread of interests suits him just fine. "I feel like my game is versatile, I feel like my style is versatile," said the superstar backstage at Public School, before being coaxed to teach the models how to dunk. "I feel as an athlete I can throw on shorts and a T-shirt with the best of them, I also feel like I can throw on a suit with the best of them. It's all about being versatile—that's kind of how I am on the basketball court. It's all about your confidence. It's a style of play that we all have; it's all about style, what makes you unique and authentic. It's the same in fashion."
Watch Wade as he dishes on fashion, style, and how to land a perfect three-pointer.
-->
Dwyane attended the 2015 Council of Fashion Designers Awards at the Alice Tully Hall at Lincoln Center on June 1st, 2015 in New York City. He donned a traditional tuxedo with tapered trousers and transparent fishnet-style top.
-->